Advertise in Jang Newspaper
Advertise in Jang newspaper Pakistan by booking ad through newspaper advertisement on Paperads.pk. Jang classified ad on Sunday in Urdu booking online in Lahore , Karachi , Islamabad and all over Pakistan online so you dont need to contact newspaper or booking agent . We deal in all type of daily Jang classifieds sunday bookings in Rawalpindi , islamabad , Lahore , Karachi , Multan, Peshawar and Quetta and are providind the services of booking agent by posting your ads in daily and Sunday newspaper classified section.
Famous Ad sizes and rates
(Call or WhatsApp 0300-0252879 for online booking)
Following are most Famous ads Sizes Available in Jang newspaper. (Prices inculude all taxes and online charges )

Jang Classified Ad : (3 Lines)
Price (Week Days) : Rs.1200 (Lahore - Rawalpindi - Karachi Editions)
Price (Sunday) : Rs. 1500 (Lahore - Rawalpindi - Karachi Editions)
جنگ اخبار میں 3 لائنوں کے اشتہار کی قیمت 1200 سے 1500 روپے ہے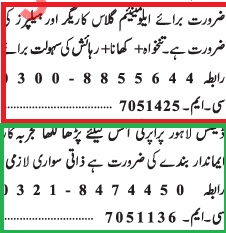 Jang Classified Ad with QR code:
Price : 4500 (All Editions - Karachi , Lahore , Islamabad)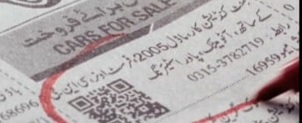 Jang Classified Ad with Heading
Price : Rs. 2000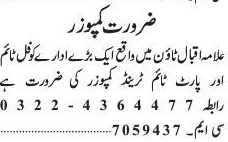 Jang Highlighted Ad / Screen
Price : Rs.1500 Extra (3 Lines Ad - Only for Jang Karachi )
Jang Small Display Ad ( 5cm - 5*1)
Price : Rs.9000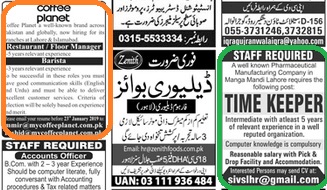 Jang Medium Display Ad (10cm - 5*2)
Price : Rs.18000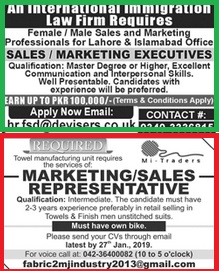 Jang Classified Panel (6cm - 3*2)
Price : Rs.7500
Jang Large Display Ad (20cm - 10*2)
Price : Rs.48000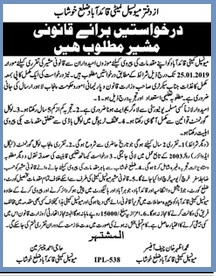 (More Custom Sizes also Available including Full Page and Half page and Quarter Page Ads)
Why Jang bookings ?
Booking an classified ad or display ad in jang newspaper will get you the best and timily responce from the area you want. Jang is the most cerculated newspaper in Pakistan. So if you want to place ad in newspaper then jang newspaper will be your first choice
Rates for Newspaper Advertisement (Ad rates in Jang Newspaper)
Rates of advertising in jang on ad booking in Karachi , Islamabad , Rawalpindi, Lahore , Quetta and Multan in daily jang advertisement rates varies from different editions and different days and different secions like classified or other.

Advertising Rates
Classified Ad with Heading and 3 Lines : Rs. 2000
Degrees Lost (According to Board requirenment Ad) : Rs. 9000
Property Papers Lost (Different Rates for DHA , Bahria and other properties)
Type
Display Ad Price
5*1
Classified Ad Price
Matrimonial
Rs.9000
Rs.1500
Jobs
Rs.9000
Rs.1500
Property for Sale
Rs.9000
Rs.1500
Property for Rent
Rs.9000
Rs.1500
Name Change
Rs.9000
Rs.1500
Lost Found
Rs.9000
Rs.1500
Cars
Rs.9000
Rs.1500
Education
Rs.9000
Rs.1500
Sunday classified Ads
Sunday classified ads will be charged extra and be booked in advance atleast 3 days (Till Thursday) in advance (Till 4PM Thusday).
For further information and booking your order Call or WhatsApp 0300-0252879
Our Ad Booking Point / Center / Ad Agency
We book ads online and on calls in 21st century when when everything is done online so why waste your time and money in traffic and go to offices of newspapers. Jut Call us and tell us about your ad send required documents by email or whatsapp. After approval send money through Easy Paisa / bank trasfer. We have booked over 1000 Newspaper Ads in last 2 months is the most favourate way to place advertisement on newspaper